All
Aviation Career Workshop for Women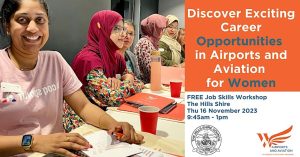 Take part in an informative in-person workshop for women interested in pursuing a career path in the Aviation and Airline industry on Thursday, 16 November 2023.
Open to women of all ages, the event aims to impart knowledge on possible options, paths, and requirements for women wanting to pursue a chance in the industry.
"Each workshop is designed to share career pathways, training options and skill requirements, job application tips for women to apply for aviation jobs," the announcement mentioned.
"It's a great insight into the amazing career opportunities that exist in Aviation and at Airports, including careers that do not require any formal qualifications to enter."
The Thursday event, which begins at 10:00 AM and ends at 1:00 PM, will cover the following topics:
Airports and Aviation Careers

Aviation Employer Overview

Who's hiring NOW

CV and Cover letter Writing
The workshop is free with a total of 50 spots, which can be reserved online via Eventbrite: Job Skills Workshop – Norwest. It will be held at the Hills Shire Council, located at 3 Columbia Court in Norwest.
As part of the Empowering & Enabling the Women of Western Sydney Program, it aims to create greater participation and introduction of more women from Western Sydney to the workforce, break stigmas, address the perceived gender and cultural barriers in the industry, and develop skills and confidence.