Baulkham Hills Netball Job for 2023 Winter Competition
The Baulkham Hills Netball is seeking to fill seasonal customer service, food preparation and barista positions in the canteen and BBQ for the 2023 Winter Competition (April to September).
Baristas – must have a minimum of 1 year experience working in a fast paced café.
Canteen Staff – General grounds and maintenance will form part of the daily duties, customer service experience is preferred
Regular working hours are:
– Friday evenings during competition from 16:30 – 20:30 (hours TBC)
– Saturdays during competition from 07:00 – 17:30 – BHN Carnival May 28
– Occasional Sundays during competition (currently estimated x 2 days)
Applicants must be able to commit to a minimum of 4 hours for Friday evening shifts and a minimum of 5 hours for Saturday shifts. However, applicants do not need to be available for both Friday and Saturday.
Applicants must be at least 15 years old and must have the right to work in Australia.
Remuneration is paid in accordance with age, qualifications, and experience – Fast Food Industry Award 2010.
Contract start date is Friday 28 April and Saturday 29 April 2023. Applications close 17:00 Wednesday 19 April 2023.
To apply, email your resume to: [email protected]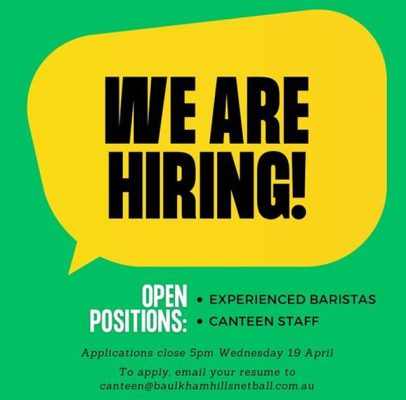 Source: Baulkham Hills Netball