By Bev Jordan
Sitting in a Kellyville coffee shop with Lynne McGranger to chat about her newly released book Acting Up is an entertaining jaunt down memory lane with the down to earth actor who loves a good yarn.
The book (subtitled: Me, myself and Irene) is as relaxed as Lynne who has spent nearly three decades playing Irene Roberts on the Logiewinning Home and Away series on Channel 7 which is syndicated to over 80 countries around the world.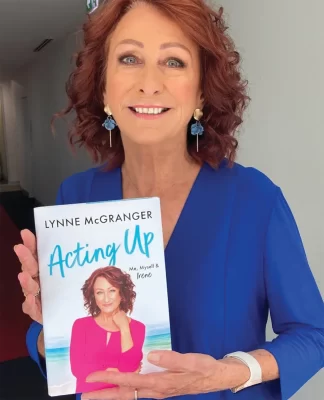 What began as a three-month stint on the popular soapie filmed on Palm Beach has turned into a 29-year-life changing experience for the former primary school teacher who honed her acting craft at the Q Theatre, Penrith before doing an audition for a "guest role" on Home and Away.
"I was told there was an opportunity it would be an ongoing role and I thought, yes right," she laughs. "I had learnt not to get emotionally attached to auditions."
Her daughter Clancy was not even 2 years old when she landed the role in January 1993.
She is now the longest-serving female cast member of any Australian TV show.
The book covers the Hills resident's early life (she was born in Paddington), her childhood, teaching and the years leading up to Summer Bay and beyond.
It's an easy-to-read book, full of warm humour and emotion. It's like listening to an old friend.
Lynne says while she loves to chat and tell stories she was unsure about the writing element when she was approached to write a book during COVID.
"I am not a writer, but I can talk under wet concrete," she laughs. After six months with co-writer Summer Land she is more than happy with the result saying it was like putting together a patchwork quilt.
"'In the middle of the night I would remember something and write myself a note, memories would prompt other memories."
Neither her husband Paul nor daughter, Clancy got to read anything until the book was published. She also did an audio book which she found exhausting. As Lynne tells it she grew up in a close-knit family and decided to go into teaching because she didn't want to be a nurse or a typist.
"It was the early '70s and those were the choices, it didn't take me too long to realise that I wasn't cut out for teaching."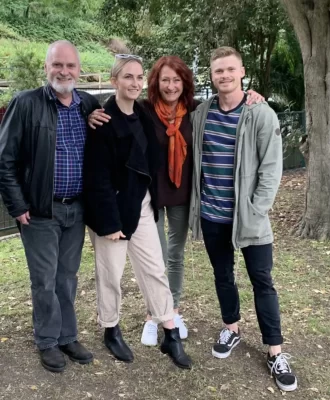 She says she is very grateful for college (Riverina College of Advanced Education Wagga Wagga) for giving her the love of theatre: "It made me realise I wanted to be an entertainer".
She said being paid to do something she loved was amazing. She left the Q Theatre in 1983 and joined the Murray River Performing Group which is where she met her musician husband Paul McWaters.
The book covers this early life and the parade of personalities she has acted alongside in Home and Away.
She says while she did leave some things out she also changed the names of some people.
"I didn't want to hurt or embarrass people," she says.
Lynne Mcgranger does talk about the onset of bullying she endured but does not name the culprit.
"I wanted to make people aware that there will often be people who can't help themselves."
Her huge fan following in the UK and Ireland has resulted in numerous Panto performances in England during the Christmas season which have been interrupted by COVID restrictions.
Lynne Mcgranger says she has missed being the annual "Panto baddie" which she has been doing for over 20 years.
She says her biggest joy in life has been watching her daughter Clancy blossom into the talented woman she is, running her own business and engaged to be married to local Luke Dickson.
Lynne's an AFL fan and a dedicated Swans fan (she is an ambassador), loves cricket and supports several charities including the Hills Relay For Life.
Lynne turns 69 on January 29th and her advice is: "Live your life not your age. If ageing disgracefully is your thing, go for it, just don't post too many photos on Instagram."