Hornsby Shire residents spoke an impressive 82 languages, and 41 per cent were born overseas, according to Hornsby Shire Council's 2021-22 Annual Report.
The recent snapshot of the Shire showed that Hornsby residents came from 112 different birthplaces. Of the 41% born overseas, 7.6% were born in China, 5.1% in India and 4.4% in the UK.
The Report also found that 35% of occupants fluently spoke a language other than English, and 84% of residents had Australian citizenship.
The Shire's population increased to 159,128 in June 2022, an increase from the 152,225 residents tabled in June 2021. Council is forecasting that number will reach 179,582 by 2036, a steady increase of 12.85%.
The Report found the median age of residents was 41 years old. The gender breakdown was 51% female, 49% male.
Educationally, 73% of ratepayers completed Year 12 schooling, 44% held a university qualification and 13% had a trade qualification.
The local economy and employment statistics showed that 48, 947 people worked in the Hornsby Shire, with 13,784 businesses operating. The the gross regional product totalled $7.66 billion.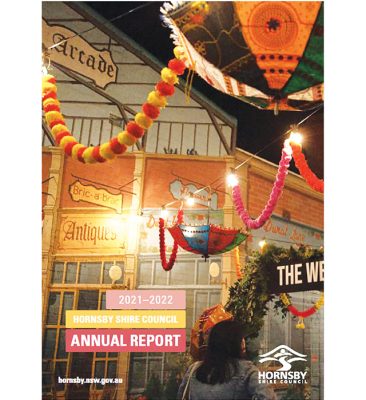 The Annual Report found that 85,387 residents were involved in some form of employment, the largest industry being the health care and social assistance sectors.
Hornsby's latest unemployment figure was sitting at 4%, slightly higher than the NSW figure at 3.2%.
There were 55, 919 dwellings tabled within the Shire, of those 68% of residents lived in a standalone house, 12% in medium density dwellings, and 20% in high density.
The Report found that 18% people lived alone, 53% were households with children, and 12 % were older couples living without children. 4% of residents required daily assistance due to a disability. 53% of residents had two or more motor vehicles.
The median weekly household income of Hornsby Shire residents was $2,417, with 39% of homeowners owing a mortgage, with repayments of an average $2,600 per month.
21% of households were renting, with median weekly rent totalling $495. Median house values stood at $1.3 million (June 2018) with the median value of apartments $717,000.
Geographically, the total land size of the Shire was 460km2 (1,328km of rivers and creeks) and of that, 70% of land was bushland, 15% rural, 10% urban and 5% open and recreational spaces – totalling 5,950 hectares.
According to the Annual Report, the Shire had 170 parks, 131 playgrounds, 37 sportsground complexes, and two aquatic facilities. There were four libraries and 25 community centres – with 13 railway stations and one metro station.