W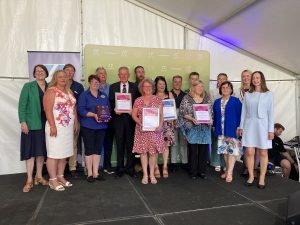 Winners from the 2023 Hawkesbury Australia Day Awards
Nominations are now open for the Hawkesbury Australia Day Awards for the year 2024, according to the Hawkesbury City Council (HCC) in a media release on the 5th of June, 2023.
The categories for the awards are as follows:
Citizen of the Year
Young Citizen of the Year
Local Hero Award
Volunteer of the Year
Sportsperson of the Year
Junior Sportsperson of the Year
All Abilities Sportsperson of the Year
Community Arts Award
Cultural Heritage Award
Environmental Award
Community Organisation of the Year
Commemorative Plaque.
The public can now nominate via this link: Australia Day Awards 2024 Nominations.
According to the HCC, the winners of the Day Awards "will be announced on Friday, 26 January 2024 at a special awards presentation. In addition, the  "nominees, nominators and their guests" will be present at the coming ceremony.
Visit www.hawkesbury.nsw.gov.au/_resources/forms/australiadayawards2024 for more information or to nominate someone – all nominations need to be completed online by Sunday, 24 September 2023. Unsuccessful nominations may also be resubmitted in subsequent years.
All nominees must be residents of Hawkesbury or non-residents who have significantly contributed to the Hawkesbury community. Visit Council's website www.hawkesbury.nsw.gov.au for updates.
Related story: Hawkesbury Australia Day Awards 2023
Image credit to Hawkesbury City Council.