A brand new sporting complex at Stringer Road, North Kellyville is a step closer to construction following a decision at a recent Hills Shire Council meeting.
Councillors have awarded the tender to build the Stringer Road Reserve at North Kellyville. The suburb will see an additional 6,500 homes built by 2036, and many more people and families moving into the area.
The new complex is proposed to include four multipurpose natural turf fields, that could accommodate soccer and AFL during the winter and can be utilised as a cricket oval in summer.
There will be two full-size multipurpose basketball courts, cricket practice nets, a children's playground, as well as an amenities building, carpark, and specialist lighting, irrigation and drainage.
A perimeter pathway will complete the overall design, and provide access to the onsite facilities and connect to the greater Shire-wide footpath network – making it even easier to walk or cycle to and from the Reserve.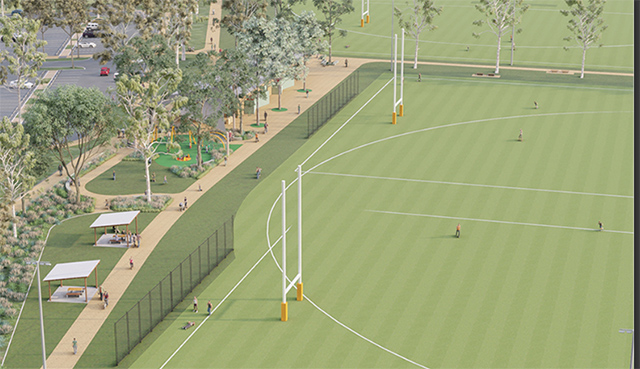 Hills Shire Mayor, Dr Peter Gangemi said: "The North Kellyville community are very excited about Stringer Road Reserve, so the awarding of the tender is wonderful news for local residents.
"North Kellyville is one of our fastest growing suburbs in the Shire.
"Having these plans moving forward will ensure that we will have the facilities in place to cater for this growth. More importantly, it will allow Council to build a dedicated space that supports healthy and active lifestyles, and encourages social connection and interaction for the entire community through sport and passive recreation."
Stringer Road Reserve is one of a number of parks and reserves that has been planned by Council to be built in North Kellyville, including Withers Road Reserve, which is proposed to include a nature themed playground, picnic areas, shared pathways and a dedicated kickabout space.
The new Samantha Riley Reserve is already under construction, as well as two new playgrounds, including one at Deepwater Circuit Reserve and the other located at Kumbatine Circuit Reserve.
The Samantha Riley Drive Reserve at North Kellyville is due to be completed by the second half of 2023, weather permitting. It will include four multi-purpose turf sports fields that can also be reconfigured into two ovals.
The new family-themed facility will also include cricket practice nets, a basketball half court, and a children's playground with picnic settings. It will have a separate amenities building with accessible toilets, change rooms, kiosk, referee room and storage, as well as a 200 space carpark.