Family-owned childcare operator Kinda-Mindi, is opening a new high end early learning and childcare centre in Bella Vista to meet the high demand as the district experiences rapid growth with many young families moving in.
According to Hills Shire Council's Corridor Strategy, A Plan for Growing Sydney the Norwest population is set to increase from around 6,000 today to more than 20,000 residents and employ 60,000 people by 2036.
Kinda-Mindi has been owned and operated by Brett and Clare Parker since 2008. They currently look after 362 children per day across five centres, including Norwest Marketown.
The new Kinda-Mindi, Bella Vista is a flagship centre that will cater for 108 children from six weeks to six years when it opens in early 2023. Those interested in securing a place are invited to register their interest at www.kinda-mindi.com.au.
Kinda-Mindi, an Aboriginal word 'to laugh' represented by the Kookaburra, has been purpose-designed to include a children's cafeteria, art and craft rooms and dedicated sleep rooms. The new centre will incorporate many Aboriginal perspectives including Aboriginal artwork, as well as history, music and cooking experiences.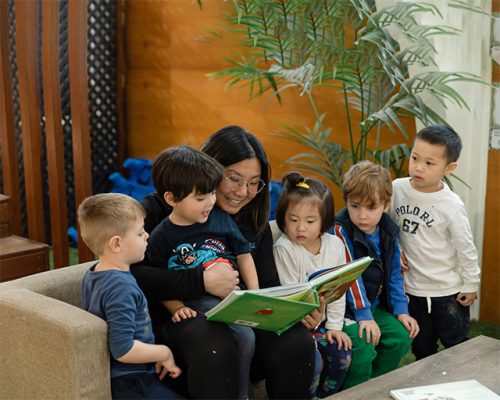 The new centre will be located on the ground floor of Norwest's newest commercial building, The Bond, on the corner of Elizabeth Macarthur Drive and Norbrik Drive, Bella Vista.
Owner, Clare said: "We are excited to be opening a new centre that has been designed from the ground up to provide wonderful facilities and an enriching experience for children, their families, and our childhood educators. We are seeing strong demand for quality childcare places in the Norwest area, and this is only set to continue as the area undergoes rapid growth in both residents and employment."
"As a family-owned operator that has a number of centres, we combine the best of both worlds – a focus on serving our local communities with close relationships with families, and quality resources and systems that ensure the safety and well-being of children in our care."
"We encourage children to be responsible for their own learning by investigating and questioning themselves and their surroundings to expand their curiosity and reach their full potential."
"We also encourage children to share interests and curiosities, socialise, express emotions and have fun, whilst our qualified educators provide support through intentional teaching to complement their current projects and interests. We believe this provides a solid base for each child's further education including a positive transition to school."
For further information, visit www.kinda.mindi.com.au