Maria Worthington from Baulkham Hills was the first patient to be treated at Icon Cancer Centre at Norwest.
The 79-year-old's 25th and final radiation therapy session was at the end of October.
She was diagnosed with Stage 3 breast cancer in April.
"I felt a lump in the breast while I was showering. I booked in to see my GP straight away. It all happened very quickly," she said. "I had surgery, followed by four months of chemotherapy. After my chemotherapy treatment, I was advised to have radiation therapy. My daughter told me that Icon was opening a new centre only three minutes from home, which was a big relief. Prior to Icon Cancer Centre Norwest opening, the closest centre with state-of-the-art equipment was an hour away from home. "
Maria still plays the piano accordion in The Accordion Society of Australia Orchestra.
When radiation oncologist, Professor John Boyages discovered she played piano accordion he carefully planned Maria's treatment to ensure her shoulder was not impacted.
"Shoulder dysfunction after radiation is not uncommon. Thanks to modern radiation techniques used here at Icon, we can better direct the treatment to where it needs to go, which was imperative in Maria's case. I'm constantly amazed at the sub-millimetre accuracy we can now achieve for patients through our cutting-edge treatments. We have also introduced a new advanced tattoo-less technique.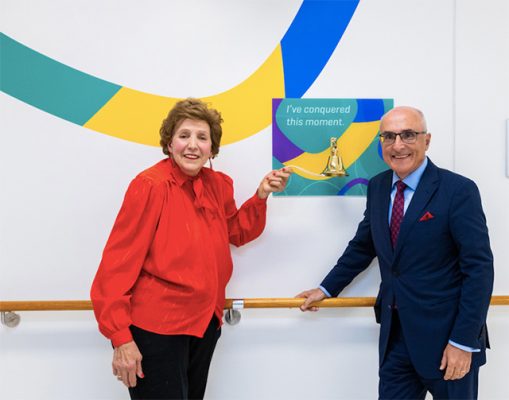 " Many radiation departments still use tattoos to help the radiation therapist position the patient correctly to deliver treatment to the right location. Unfortunately, these are a constant reminder of treatment even many years later," he said.
Icon Cancer Centre Norwest has the capacity to deliver 900 courses of radiation therapy each year and offers the latest technology and treatment techniques.
The centre is home to an advanced Varian TrueBeam linear accelerator with cutting-edge IDENTIFY technology, which offers patients the option to have tattoo-less treatment.
"As the first private radiation therapy centre in the region, Icon Cancer Centre offers a co-ordinated approach to cancer care in partnership with Norwest Private Hospital. These services are vital in our ageing local community. We are proud to support our healthcare partners, medical community and the patients who will benefit from comprehensive cancer services on their doorstep for years to come." Maria Worthington and Prof John Boyages ~ Icon Group CEO, Mark Middleton