By Lawrence Machado
Castle Hill RSL Group's gymnasts are a source of pride not only for the Hills Shire but also for NSW and Australia, having produced several national and world champions over the years.
The remarkable roll out of champions over the years has catapulted CHRG gymnasts and their well-drilled teams to the national limelight time and again.
The club has a swagful of awards from Gymnastics NSW, including Club of the Year, Trampoline Club of the Year for more than six years on the trot and Junior Development Coaching team of the Year.
The club's ability to get their basics right is one of their key strengths with their kindergym the ideal foundation for their award-winning gymnastics squads.
Targeted at toddlers to the five-year-olds, kindergym classes have a new theme each week, giving the children the opportunity to enjoy different learning experiences, including circus, back to the farm, space and Disney.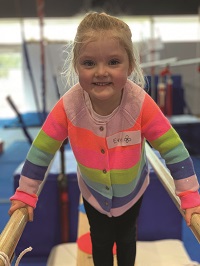 The children can make the most of the opportunity to experience a new and stimulating environment that encourages interaction and participation.
Castle Hill Fitness & Aquatic Centre gymnastics manager Vanessa Whelan said these classes give the children the opportunity to reach their potential, practise skills and actively solve problems.
She said the structured program is run by qualified and fully accredited coaches in a professional environment.
"Kindergym is the perfect opportunity for preschoolers to develop physical and cognitive skills in a fun and playful way at their own rate through guided exploration," Whelan said.
"Whether you want to participate and share the experience with your child, or have a fouryear- old that would like to attend independently, we have a class for you.
"It is exciting to have the opportunity to watch your child grow in confidence and skill as they explore an environment that is safe, stimulating and fun."
Whelan said there are a variety of musical activities included in each session, which leads into an interactive circuit for the participants to experience along with their carers.
"Once children reach four years of age, they have the opportunity to join the independent classes with a more structured approach to the skills of gymnastics," Whelan said.
Classes are held every week day in the CHRG's state-of-the-art centre, with no bookings required.
For details, contact 9846 1270