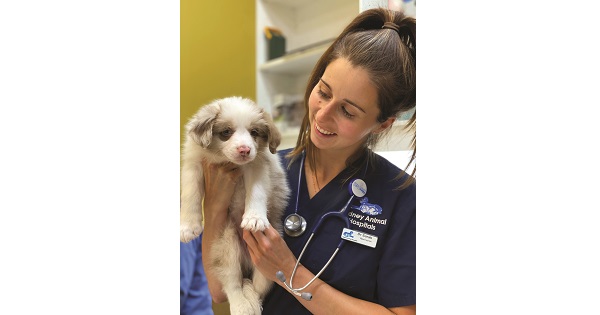 Owning a new puppy or kitten can be a very exciting time for pet owners. There are some crucial health care measures that need to be taken to ensure your new furry friend gets the best start in life.
Puppies and kittens need a balanced, premium puppy/kitten food. Puppies and kittens grow and develop rapidly and have very different nutritional requirements to adult dogs and cats.
For example, puppies and kittens require additional calcium and energy to facilitate proper growth of bones and muscles, in dogs this ratio of calcium and energy can be different for small breeds to large breeds.
Parasite control is very important for puppies and kittens as they are more likely to be carrying gastrointestinal worms at this stage in their life. An all wormer tablet should be given every 2 weeks until 12 weeks of age, every month until 6 months of age and then every 3 months for life.
For puppies heartworm prevention is even more important – the best way to prevent heartworm is with injectable medication administered by your vet, this removes the possibility of forgetting to give a dose, one missed monthly heartworm dose can result in heartworm infection.
Heartworm in dogs is a potentially fatal disease that is transmitted from infected to uninfected dogs by mosquitoes. These mosquitoes inject a number of tiny worms (microfilaria) into the dog's body which then mature into adult heartworm over about 6 months. These adult worms settle inside the chambers of the heart and interfere with the flow of blood.
Tick prevention is a must, even in the colder weather. The newer oral tick preventatives and tick collars are highly effective. Most of these products also prevent fleas for extended periods.
Vaccinations are also imperative to prevent deadly infectious diseases such as parvovirus, distemper, hepatitis and infectious canine cough in puppies and feline herpesvirus, calicivirus and feline panleukopenia in kittens. During the vaccination consultation the veterinarian will complete a full physical examination to ensure your puppy or kitten is healthy and fit for vaccination.
After these vaccinations are completed your puppy or kitten will then be able to safely mix with other pets at dog parks and public places without the risk of acquiring these infectious diseases.
For new puppies our vet will also be able to suggest some puppy schools for him/her to attend to receive some basic training and the critical socialisation needed.
During January to March Sydney Animal Hospitals are offering free for a new puppy or kitten, a free health checkups with our vet, free pet insurance for one month and a free sample bag of Hill's puppy or kitten food. Plus for puppies a free dose of year-round heartworm prevention and 4 weeks free tick and flea protection. If you have a new puppy or kitten contact your local Sydney Animal Hospitals Kellyville 8883 0533 or Norwest 8883 0411 to discuss your new fur baby.